Have a question, comment, or concern? Please feel free to contact us and we will do our best to assist you!
Coming Soon: Google Form for contact! For now, feel free to reach out to one of our social media pages and we'll get you the information you need!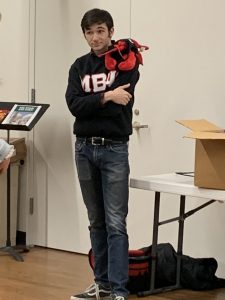 Nu Chapter E-Board Members:
President: Robert Ackerman
Vice President: Justice Fischer
Treasurer: Seth Nesbitt
Secretary: Meghan Donnelly
Service Coordinator: Jeremy Lynch
Member-at-Large: Ronda Brown
Others:
If you are interested in starting a Chapter at your school, speak to our Chapter Expansion Officer: Abigayle Liendecker
Contact our IT Officer and PR Representative with any site-related or social media-related inquiries: Our PR Representative is Claire Bosley and our IT Officer is Jeremy Lynch!
Important Links:
Music Department
National
Active Chapters as of June 3rd, 2020:
Alpha Chapter – North Carolina State University, Raleigh NC
Zeta Chapter – Michigan Technological University, Houghton MI
Kappa Chapter – Wofford College,  Spartanburg, SC
Pi Chapter – Rutgers University, New Brunswick NJ
Rho Chapter – Northern Michigan University, Marquette MI
Tau Chapter – American University, Washington D.C.
Upsilon Chapter – Stetson University, Deland, FL
Alumni Association – Headquartered in Raleigh NC